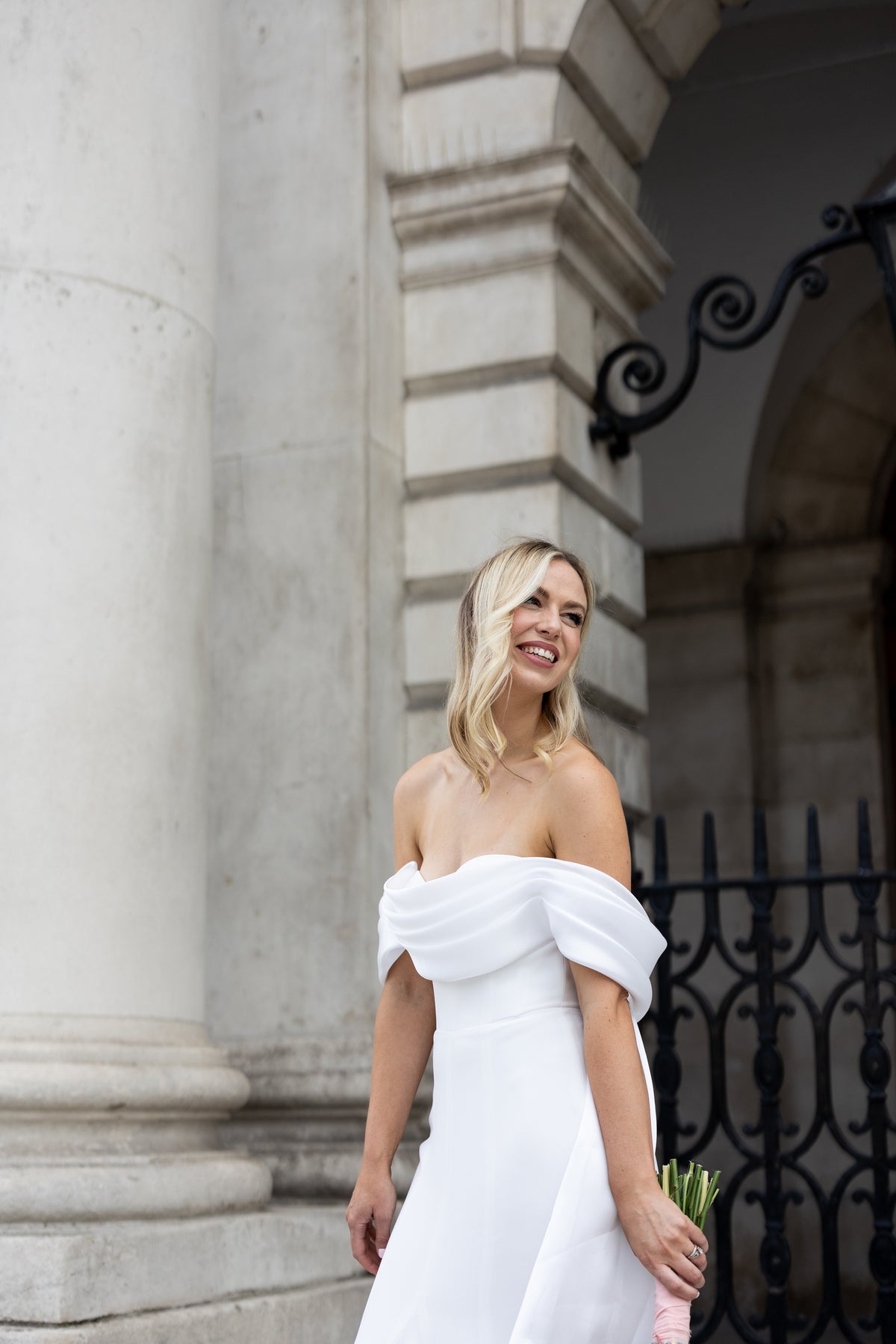 Genevieve
Introducing our stunning minimal wedding dress, designed with effortless elegance and refined simplicity in mind. This strapless beauty boasts a visible bone structured bodice, creating a flawless silhouette that will leave you feeling like an ethereal goddess on your special day.

Crafted from soft crepe fabric, this dress gently caresses your every curve, offering comfort without sacrificing style. The modern fit and flare skirt elegantly hugs your hips before gracefully flaring out, creating a truly mesmerizing effect as you float down the aisle. And just when you thought it couldn't get any more captivating, a slight train trails behind you, leaving an enchanting impression with every step.

To add a touch of intrigue and versatility, we've included a detachable collar. This collar lends an alluring aesthetic to the dress, allowing you to transform your look effortlessly. But the real showstopper? The dramatic detachable train, designed to intensify the anticipation and make a grand statement as you glide towards your loved one.

Now, picture yourself in this captivating gown. Feel the exquisite fabric against your skin as you walk with grace, radiating confidence and sheer elegance. Are you envisioning the dream-like atmosphere, the eyes filled with admiration, and the love that will only grow stronger? This dress guarantees all this and more.

To truly understand the magic of this dress, we invite you to book an appointment at our boutique. Our skilled consultants will guide you through the process, ensuring a personalized experience tailored to your unique vision. Allow yourself to immerse in the romance, the allure, and the joy as you try on the dress that promises to make your heart race!